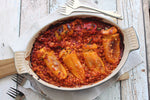 I am on a mission to make most of my meals plant based then build from that. Do you cook that way as well?
I found these little cute peppers in the supermarket and thought, what a great color! Being of Croatian heritage I had to stuff them like my mama use to do with her peppers. These are meatless and have about a tablespoon of parmesan cheese in total as a binder. 
What is Ajvar you ask? Ajvar reminds me of my childhood. Home cooking at its finest in the 80's that's for sure! Ajvar is a delicious roast pepper spread with a hint of spice. The spread is most commonly from Macedonia and can be found at most good deli stores. Here is how wikipedia describes the product.
"Ajvar is a pepper-based condiment made principally from red bell peppers and oil. Ajvar is used in the Balkans in Albanian, Bosnian, Bulgarian, Croatian, Macedonian, Serbian, and to a small degree the Slovenian cuisine. In Serbia, it was long known as "Serbian salad" or "Serbian vegetable caviar". Wikipedia
Here is the recipe!
Peppers with Quinoa and Ajvar Stuffing
What you will need:
*1/2 cup of quinoa in a pot of water-follow instructions on quinoa packet for best results for that brand.
*One teaspoon of ajvar
*One stalk of Kale-no stem thinly sliced
*1/2 cup of dry red lentil
*One cup of passata
*Salt
*One spring onion thinly sliced
What to do:
In a pot using the absorption method, prepare your quinoa.
Once the quinoa has cooked add your sliced kale, ajvar and parmesan and stir through while warm.
Set aside.
Slice the ends of your peppers - set aside as we will use these again-and gently remove the seeds.
Using a teaspoon, add your filling and using a toothpick secure the end of the pepper.
In an oven proof dish pour your passata and then pop the lentils on top and stir till lentils are coated.
Pop the peppers on top of the passata and cover with foil.
Pop in the oven at 180.C for 20 minutes with foil on then 5 minutes without.
If the passata starts to dry out add some water about 1/4 cup.
Serve with rocket or spinach.