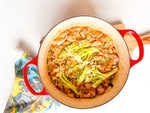 | Diana Tencic- body be well
This is my go to casserole dish. The secret ingredient is the chicken stock. Use a good quality brand or make your own. If you are pushed for time, like most of us, grab the brand Vegeta and get cooking!
Grab these ingredients and give it a go.
INGREDIENTS
500gms chicken thighs cubed
2 400gm tins of white beans
3 celery sticks
1 bay leaf
2 pieces of thyme
cauliflower florets 
750mls of chicken stock - I use vegeta 
2 carrots sliced
3 spring onions sliced
METHOD 
1. Start by browning your chicken in a casserole dish
2.Add your veggies
3. Stir in your stock.
4.Add your herbs
5. Simmer for 30 minutes with the lid on.
6. Add 2 cans of beans drained at the 35 minute mark.
7.Then add your cauliflower.
8. optional- I added sprialed zucchini as they melted into the dish and added a lovely texture. 
Serve with crusty bread.
serves 4 
OPTION you can increase chicken thighs just add a little more stock say 800 mls