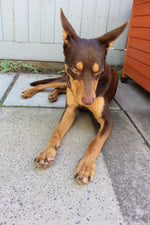 | Diana Tencic- body be well
Have I introduced you to Leo yet?
He is our pure bred red kelpie. When you own your own business you can create your own rules like bring your dog to work!
I thought I would share a little recipe for making healthy dog treats, that involves 2 ingredients. Every time I make these his pupils dilate! 
Sometimes I just buy store bought treats for Leo. Then I took a look at the ingredient list and fell over!
It was time to make them from scratch!
What you will need 
2.5 cups of almond ground with skin off
600 grams of roasted butter nut pumpkin
Method
Pre heat your oven at around 190.C
Pop your pumpkin in a baking dish I use the lodge pan...
 link is here if you want to take a peek 
Cook until soft so about 30 minutes and set aside to cool.
In a bowl scoop out the flesh and remove any skin or seeds.
Slowly in corporate the pumpkin with the flour.
You want a play dough like consistency.
Grab some baking paper and form the dough into a log.
Roll in the paper and wrap cling wrap around in letting it rest in the fridge for about 20 minutes.
Cut into slices about 5 cms thick and bake for 20 minutes.
Store in an airtight container.
A great snack for grown ups as well!
Watch the video below it only takes 1 minute!