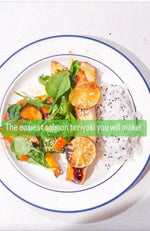 | Diana Tencic- body be well
Sometime time gets the better of me. I have 5 children and planning while I have the greatest of intentions to set can fall by the waste side.
That's where meal kits come in.
While shopping at aldi I found a great kit. The Salmon teriyaki kit which cost $14.99. This kit will feed 2 adults.
The teriyaki salmon kit comes with
two pieces of salmon
teriyaki paste
one zucchini
one carrot
one lime 
white and black sesame seeds
rice 
spinach leaves
take a look at the 40 second video here 
 You will need a baking tray lined with baking paper, plus a pot to boil your rice in and a way to strain your rice.
1. chop your zuchini length ways and then into small cubes.
2. Do the same with your carrot.
3. Cut your onion (peel it first) into quarters.
4. place all the above ingredients into a baking tray.
5. Drizzle about 1/2 the teriyaki sauce over the veggies and onion then gently toss about.
6.place your salmon into the pan and slice your lime into thin slices to place onto your salmon.
.7.pop in a 200.c oven for about 15 minutes.
8 Cook your rice and drain then add the black sesame seeds and toss through.
9. Once you salmon is cooked remove from the over and serve along with your baked veggies, rice and sprinkle with white sesame seeds.
 I rate this meal 9 out of 10.
Easy to make and follow.
Ingredient quality fab.
Flavors are very tasty.
You could share this with little people by slicing the salmon in half and adding more rice to fill the dish.
You can find out more by taking a look at the aldi catalogue here 
https://www.1catalogue.com.au/i/aldi/ready-set...cook-teriyaki-salmon-with-vegetables-and-black-sesame-rice-1010g-203292