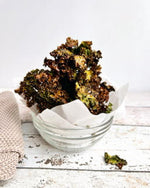 | Diana Tencic- body be well
Ahhh the debate about kale! Personally I do love kale, however the lovely kale needs to be treaded with a lot of love. 
Kale is a member of the brassicaceae family along with cabbage and brussel sprouts.
It is suggested that you clean kale well as it can hold pesticides.
Kale is high in potassium and vitamin K.
I made lime flavoured kale chips using lime infused olive oil. 
You can use a good quality olive oil and add oregano or chilli whatever herbs rock your boat! Just keep an eye on them as in no vacumming or going or a walk, bathing the kids,,you get the pic!
What you will need:
one bunch of curly kale
lime olive oil or plain good quality olive oil
Salt
baking tray
baking paper
Method
In a clean bowl, remove you kale leaves from the stalks.
Drizzle olive oil generously over the kale and massage with love.
Season with salt.
On your prepared baking tray lay out your kale leaves making sure they are not on top of each other.
Pop in the oven for about 25/30 minutes on about  170.c 
Store in an airtight container.
share the kale love and #bodybewell so that I can find your creations!