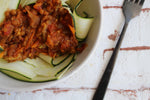 Ingredients
2 large (200g each) zucchinis thinly slice zucchini longways and then into strips to make noodles).

1 tablespoon extra virgin olive oil.

1 spring onion finely sliced.

1/4 small (150g) head cauliflower, finely chopped.

1 small red chilli, finely chopped.

1 can

 

tomatoes diced

1 cup tin lentils drained

2 teaspoons dried oregano.

30 g Parmesan cheese, flaked, to serve. or omit if vegan

Sea salt and freshly cracked black pepper, to season.
Method
First make your zucchini noodles. Heat half of the olive oil in a fry pan on medium heat. Add in ribboned zucchini. Cook and toss for 5 minutes until slightly softened.
In the same frying pan, heat the remaining olive oil over low-medium heat. Add in the onion and cauliflower and cook until both have softened (approximately 10 minutes). Add in chilli, tin  tomato Cooked Lentils, ¼ cup of water and dried oregano. Bring to a simmer for 10 minutes.
Once cooked, scoop the bolognese between the bowl for dinner and your container for lunch tomorrow.
Serve both portions with a sprinkle of flaked Parmesan and coriander leaves and season with salt and pepper.