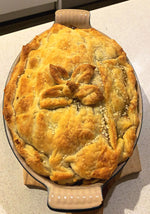 | Diana Tencic- body be well
ingredients
6 chicken tenderloins cut into cubes

3 brussel sprouts sliced

1 cup of peas

6 mushrooms thinly sliced

1 potato cut into cubes

1/2 carrot grated

60 gms of spinach leaves

2 sheets of puff pastry

medium size pie or baking dish

1/4 of an onion chopped finely

2 teaspoons of cornflour combined with 500mls of water (2 cups)
Method
In a frypan add a dash of olive oil and your chicken plus onions.
lightly fry till onions are soft.
Add your cubed potatoes.
Add your mushrooms.
Followed by brussel sprouts, peas, carrots then spinach.
Add your seasonings -salt and pepper plus oregano.
Then pour in your cornflour and gently simmer till the cornflour thickens.
Line a pie dish with olive oil and then pop one sheet of puff pastry trimming the edges with a knife.
Pour your mixture in and then create a lid with your other sheet.
pop some holes in the top to allow for steam.
Drizzle a little olive oil on top.
bake in a oven for about 20 minutes at 160.c or until crust is brown
my pie dish is about 25cm by 15 cms.
 If you would like more recipes I recommend registering for our recipe newsletter.