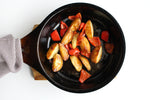 | Diana Tencic- body be well
When the cold weather hits nothing brings me joy than the humble potato. A client of mine suggested this recipe so the credit goes to Helen for this one!
This is such a simple dish.
All you need are potatoes and a small jar of peppers in olive oil or sunflower oil.
Method:
if you have a cast iron pan pop them in there or an oven proof dish will work well also.
Cut your potatoes into wedges and with a teaspoon, extract about 2/3 teaspoons of the oil from the pepper jar.
Bake in the oven at 200>c for 20 minutes.
Remove about 4/5 pieces of peppers from the jar and cut into chunks.
Pop them in the baking dish with the potatoes and cook for a further 10 minutes.