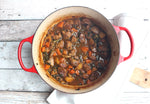 900gm gravy beef cubed about 3cm in size
olive oil
2 carrots cut into chunks
2 potatoes cubed
1 celery stick
1/2 onion finely chopped
1 bay leaf
2 sprigs of rosemary
4 cups of stock-I used chicken you can use what ever you have available
salt
pepper
5 mushrooms sliced
2/3 teaspoons of sweet paprika
1 tablespoon of plain flour
Start by pre heating your oven to 180.c
Place one kilogram of casserole beef, cut into three centimetre cubes, into a bowl. Pat the beef dry, drizzle it with a little oil and season with salt and pepper.
Brown the beef in small batches over a medium-high heat. This will help the beef to brown evenly. Remove each batch and place in a casserole dish.
Reduce the heat in the pan and add a little oil. add your onion, 1 chopped celery stalks and 2 small coarsely chopped carrots. Cook for 1 to 2 minutes stirring occasionally.
Sprinkle in a tablespoon of plain flour and stir until the vegetables are coated.
Gradually pour in 3 cups of stock and a your paprika.
1 fresh or dried bay leave or small sprigs of rosemary or parsley. Stir until the mixture boils.
Cover the casserole dish and place in the oven to gently simmer. Stir every 40 minutes or so and add water if necessary to keep the ingredients just covered. You should see small clusters of tiny bubbles rise to the surface as it cooks. If it starts to boil, turn down the temperature
cook for around 2 1/2 hours checking very 40 so minutes .serve with rice.