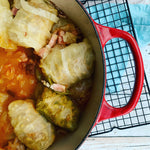 | Diana Tencic- body be well
This recipe brings back so many childhood memories. You will need to source some pickled cabbage leaves from a good deli. Soak them in water prior to use for about 15 minutes and cut the middle tough stalk part out.
Then it is a matter of rolling the mince mixture nice and tight and baking them in a dutch oven stove top for about 60 minutes.
Here is the recipe:
1 whole pickled cabbage
1 kg pork mince
1 onion
2 cloves of garlic crushed
1/2 cup of rice
1/2 tablespoon of paprika smoked 
salt and pepper 
kessler bacon about 200gms or any smoked meats of choice
chicken stock or water for cooking
deep dutch oven pot about 26inc diameter
Roux
1 tablespoon oil
1/2 tablespoons of flour
1/2 tablespoons of sweet ground red paprika
Method
Prepare the leaves by removing the thick middle vein and soak for 15 minutes.
Mix all the spices into the pork mince. Place about 2 tablespoons of mixture at the top of where you cut the middle out and tuck the leaves in and roll into a tight package. 
Layer around the pot making sure you leave the centre clear. 
This is where your smoked meats go.
On the bottom of the pot slice up any access cabbage and layer that first before you place your karma in the pot.
Once you have all your sarma placed in the pot add your meats in the middle.
If you are using bacon sprinkle so ontop.
Add your stock about 4 cups and make sure most are covered.
Let it cook on medium for about 60 minutes.
Now make your roux
combine oil and flour and then your paprika
Add some liquid from the cabbage rolls and cook for about 5 minutes.
It will look like a thickish paste.
Add this to the pot of cabbage rolls at about the last 10 minutes of cooking.
This dish tastes amazing the next day as well.
I serve it with crusty bread. 
 this recipe was developed by the croatian society of