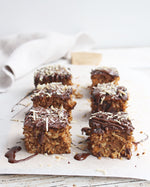 It has been a while since I have hit the kitchen to prepare a sweet treat. I have been so focused on my savoury side that heaven forbid I have neglected my sweet tooth! Fear not, as this little beauty is hitting all my sweet spots! 
Now, very important question I have for you lot......
Anyone else torn between I'm a celebrity or MAFS? I am a celebrity lover myself however you could eat this while watching either show. 🤣🙏🙌
Sweet potato and coconut slice
A pinch of bi carb soda
1 cup of natural almond meal skin on
2 cups of sweet potato cut in halve and baked for 40 minutes 200.c
4 eggs
1 teaspoon vanilla essence 
1 cup of toasted shredded coconut 
2 tablespoons of coconut oil
50 grams of 78% Lindt chocolate
2 teaspoons of coconut sugar
1 teaspoon of cacao powder
In a bowl mash you cooked sweet potato skin off with your vanilla essence, almond meal, bicarbonate Soda and coconut oil. 
Add you chopped chocolate and combine well with eggs
Using a baking dish lined with baking space pour in your mixture and cook for 30 minutes at 180.c then turn the oven off and allow to sit for 10 minutes.
Using a skewer to check if it is cooked remove and then melt the remaining block of chocolate and drizzle on top. Sprinkle with coconut if you desire x