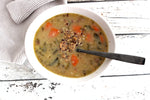 Do you struggle to find ways with left overs? 
 Let's take a look and dive into that fridge and cupboard and see what we can find!
I am not much of a meal planner. I love to cook with what I have got in my kitchen.
Call me crazy but I do love a spontaneous cook. 
I do this constantly with soup.
I make sure i have the usual suspects and build from there.
This soup was made with the following ingredients:
organic beans
 any veggies my favs are, kale, potato, brussel sprouts carrots pumpkin
spring onion
olive oil
salt and pepper
water
oregano
In  medium pot slice up one spring onion and sauté with your veggies.
I find that if I cut the vegetables around the same size say potato into cubes and carrots into even slices, then it not only looks good but cooks evenly.
Add oregano plus salt and pepper.
Cover with water just so that your veggies are submerged.
Simmer for about 20 minutes and stir occasionally.
Taste the soup and see if she needs more salt and sprinkle with love!
I added left over cracker crumbs for a garnish. 
This recipe can be frozen.