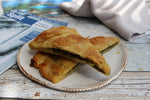 While I was away eating my way through Croatia, I came across this dish. Made with the usual suspects you too will find this dish both satisfying and delicious.
I ate this while I was in Split and this dish served me well while taking in the scenery and attend to my long walk fuel.
What you will need:
2 cups of plain flour
1 1/2 cups of water 
salt
3 tablespoons of olive oil
For the filling
about 1 kg of silverbeet-stalks removed
one spring onion
2 cloves of garlic
slice the silverbeet (remove stalks first!)thinly as well as the onion and garlic drizzle with about 1/4 cup olive oi, mix through with your hands and set aside.
 For the oil topping
minced garlic  and 1/4 cup olive oil infused and set aside
How to assemble it
Make your dough. 
Combine flour water oil and slat and mix well.
Flour a bench and with half the dough roll into a circle.
Place your  dough on a baking tray then add your filling ontop of the dough and set aside.
With the remaining dough make a circle and pop on top. 
Crimp the edges of the dough to form a seal.
Pop in the oven 200.C for 20 minutes.
When its ready pour the garlic oil all over the top and serve