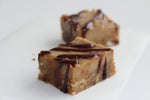 This slice is for all of my coffee lovers. My mama bless her cotton socks would healthify her tiramisu by adding custard instead of marscapone. Here we use delicious ingredients such as cashews and dates. Slice into small cubes and freeze to avoid over indulging!
Ingredients
base
one cup almonds
one tablespoon of coconut oil
one cup of medjool dates/pitted
filling
2 cups of cashews
2 tablespoon of coconut oil
1 tablespoon of rice malt syrup
to make coffee 1/2 cup of boiling water and one teaspoon of coffee
1/2 cup coconut cream
buckwheat groats for topping -optional.
Instructions
1 Line small pyrex dish or bread tin with baking paper.
2 In a high power blender, add your dates almonds and coconut oil and combine well.
3 Using your clean hands spread the mixture into the dish.
4 Set aside
5 Combine all the ingredients for the filling in the same high power blender and combine till smooth and thick.
6 Pour onto your base and set it in the fridge overnight or in the fridge for 2 hours.
7 Top with buckwheat groats.