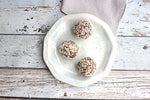 I had forgotten the art of making bliss balls! 
It can be a labour of love but you know what spurs me on? The price tag of a bliss ball when I grab my coffee. $4.50 for a ball. I know right? I have a simple recipe for you all.
What you will need:
1 cup of almond meal
1/2 cup of soaked dates
1/4 cup of shredded coconut
1/4 cup sunflower seeds
1/2 tablespoon of raw honey (I use Pure Harvest raw organic honey)
1 tablespoon of peanut butter
toasted shredded coconut to roll the balls in - optional
Next step:
pop all your ingredients in a blender and blitz till desired consistency is achieved.
I used toasted shredded coconut to roll them in however you can leave them plain.
Also you can sub out the honey and use rice malt syrup if you wish.
Roll them to the desired size. I make my big and chunky! This mix makes about 6 serves.
Keep them in an airtight container in the fridge and enjoy your tea or coffee knowing you have saved some money and are eating real food! A treat yes but you know what nothing beats home made!
Stay well
Diana
If you like this recipe you will love my sweet potato brownie recipe